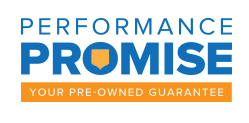 Performance Promise, Your Pre-Owned Guarantee
The Performance Promise gives you complete peace of mind when purchasing a pre-owned vehicle.
Delivering the best value, warranty, return and exchange privileges in the industry.
One Price, One Promise Guarantee
Our absolute best price is posted on the windshield of every pre-owned vehicle. All
prices are backed with a current market value analysis that shows you how the price of your vehicle
compares with other similar vehicles in the market.
90-day Comprehensive Warranty
Every pre-owned vehicle automatically comes with a 90-day/1,000 km full coverage
warranty.
7-day/1,000 Km Exchange Guarantee
Your vehicle can be exchanged for any reason within a 7-day or 1,000 km period.
72-hour Money Back Guarantee
Not a perfect match? Return your vehicle in the same condition it was purchased within
72-hours or 200 kms for a full refund including taxes.
Quick Pre-approvals and Flexible Financing Options
Enjoy 30 minute approvals in the dealership or less than 24 hours online. Once approved
we'll review the financing options best suited to your needs.
Our Sales Consultants Are Commission-free
Our Sales Consultants are paid a fixed commission so they can focus on helping you find
a car that fits your needs.
Comprehensive Vehicle Inspection and Reconditioning
You can have full confidence in our inventory knowing it has passed a rigorous
125-point inspection process. Performance Promise Used Vehicles are completely reconditioned to meet the
highest mechanical, safety and cosmetic standards in the industry.
Complete Vehicle History
Take comfort knowing we have you and your vehicles safety in mind.
Never suffered frame damage
Never stolen or recovered
Never written off and subsequently rebuilt
Never endured flood or fire damage
Lien free
100% accurate mileage
Performance Promise Used Vehicles come with a Carfax report so you know it's complete
history.